Nielsen: Android growth in US continues, iOS stays strong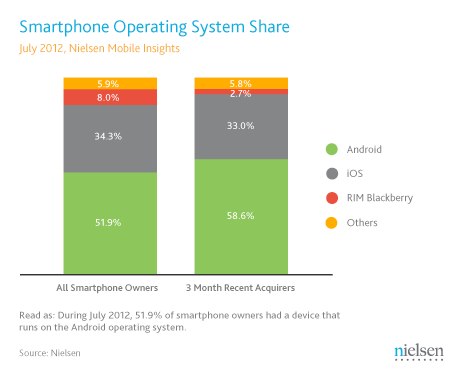 Given that the Samsung Galaxy S III only made it to the US market in Q3 and the next iPhone is expected to debut at the very end of the quarter, we expect the two leading platforms to expand their market shares even further by the time the next report rolls around.
As you see from the graph, the BlackBerry sales were down to 2.7%, while all other platforms, including Microsoft's Windows Phone managed a combined 5.8%. We don't expect Windows Phone to make a significant impact before the holiday season, as we are still waiting for the new WP8 devices to launch.
androidnerd reblogged this from thedupertech and added:

Interesting figures, although I expect this will change some after the iPhone 5 launches. iOS will steal some of that...

thedupertech posted this